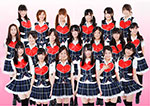 QunQun (キュンキュン) is a Japanese idol group formed in January 2011.
QunQun currently consists of 11 regular members, 5 support members, and trainees.
The line-up of each team is determined by the vote of the fans during an annual general election (レギュラー総選挙) as for AKB48. A voting card is obtained with the CDs or for every purchase of goods reaching 1000 yen at live venues.
The idol unit is based in Fukuoka on the island of Kyushu.
History
Audition was held in January 2011. There were 150 applicants.
The members hosted their first regular program [email protected] broadcast on Ustream in March 2011.
55 new girls joined the idol unit as trainees after an additional audition in March 2011.
The first 20 regular members were selected in May 2011.
QunQun released their debut single Gift (ギフト) in September 2011.
The idol group held its 1st live performance in April 2012.
The members are regularly appointed in TV CM for P-Zone since April 2012.
QunQun participated in Happy Star Party in Singapore in October 2012.
Their 1st photobook was released in December 2012.
The members were appointed for a campaign against drunk driving in Fukuoka area in August 2012.
QunQun participate regularly in various events and live performances in Kyushu.
Profile
QunQun (キュンキュン)
Years active : 2011 – present
Label : Universal Music
Agency : Elegant Promotion
Members
Regular Members
Ohno Kasumi (大野香澄)
Inoue Rina (井上りな)
Fukimoto Yukari (吹本侑花里)
Hitani Akari (日谷朱理)
Matsuki Rina (松樹りな)
Miku Momo (未来もも)
Inada Arisa (稲田光咲)
Ezaki Jurina (江崎樹梨那)
Himekawa Reia (姫川れいあ)
Nagaoka Sayaka (永岡沙也佳)
Ikuta Momoko (生田桃子)
Support Members
Namiji Ayaka (浪治彩花)
Yamasaki Miiwa (山崎美依和)
Uchimura Nao (内村奈緒)
Moe Hirano (平野萌)
Minami Natsuki (南奈月)
Tamago (卵)
Matsukuchi Yuina (松口侑生菜)
Tomooka Miki (友岡美希)
Takei Mayuko (竹井麻由子)
Nishijima Reina (西島怜那)
Tsukamoto Yui (塚本唯衣)
Abe Sakiyo (安部 さきよ)
Kenkyuusei (研究生)
Nakayama Kanae (中山佳苗)
Jojima Anna (城島杏奈)
Maemoto Karen (前本かれん)
Ohba Minori (大場みのり)
Kusaba Manaka (草場 愛華)
Former Members
Fukatani Risa (深谷理紗)
Nagahama Yuki (長濱由紀)
Yoshioka Hikaru (吉岡ひかる)
Tsukada Misaki (塚田美咲)
Fujishima Mizuki (藤島瑞希)
Fujisaki Sara (藤崎サラ)
Hinoki Mika (檜美香)
Wakaba Mimi (若葉みみ)
Uemura Miharu (上村美晴)
Kawamura Chisato (河村ちさと)
Yoshida Maya (吉田真野)
Sakurada Yuri (桜田優里)
Ejima Aeri (江嶋綾恵梨)
Okamoto Yuka (岡本柚果)
Nishizawa Aki (西澤 亜希)
Ideguchi Mako (井手口真子)
Isobe Cheska (磯邊チェスカ)
Nakamura Yuki (中村夕貴)
Discography
Singles
18/09/2011 : Gift (ギフト)
07/12/2011 : Planetarium (プラネタリウム)
11/11/2012 : Kimi to Love Letter (君とラブレター)
20/03/2013 : Kyun, Tokidoki Setsunakute, Nochi… Suki (きゅんっ、時々せつなくて、後… すき。)
14/04/2013 : Ohayo (おはよう)
28/04/2013 : XOXO
16/10/2013 : Orange Love (オレンジ・ラブ)
27/04/2014 : Powerful Rainbow (ぱわふるレインボー)
27/04/2014 : Motivation (モチベーション)
Albums
Links
News