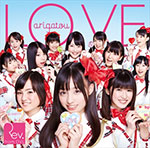 Rev. from DVL's new single Love -Arigatou- will be released on April 16.
This is the major debut single of Rev. from DVL. The unit is lead by the "angelic" idol Hashimoto Kanna.
The MV has been released.
In addition, Love -Arigatou- is the CM song for the first promotional campaign featuring Hashimoto Kanna and Rev. from DVL.
2 CD+DVD editions are on sale. The CD contains 3 songs and their instrumental versions. The 3rd track is different for each edition. They include a DVD with the music video, making-of and bonus footage.
There are also 6 Web editions of the single available on Chara-Ani Chance (キャラアニチャンス).
It comes with a ticket for a high-five event with the members of Rev. from DVL.
Tracklist
Type A

CD

Love -Arigatou-
Ai ni Kinshai (逢いにきんしゃい)
Rarirurero Love (らりるれろLove)
Love -Arigatou- (Instrumental)
Ai ni Kinshai (逢いにきんしゃい) (Instrumental)
Rarirurero Love (らりるれろLove) (Instrumental)

DVD

Love -Arigatou- (Music Video)
Love -Arigatou- (Making of)
Rev. from DVL no Jikoshoukai Part 1 (Rev.from DVLの自己紹介)
Type B

CD

Love -Arigatou-
Ai ni Kinshai (逢いにきんしゃい)
Wanna Be
Love -Arigatou- (Instrumental)
Ai ni Kinshai (逢いにきんしゃい) (Instrumental)
Wanna Be (らりるれろLove) (Instrumental)

DVD

Ai ni Kinshai (逢いにきんしゃい) (Music Video)
Ai ni Kinshai (逢いにきんしゃい) (Making of)
Rev. from DVL no Jikoshoukai Part 2 (Rev.from DVLの自己紹介)
Music Video (PV)