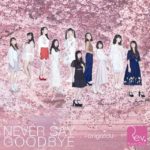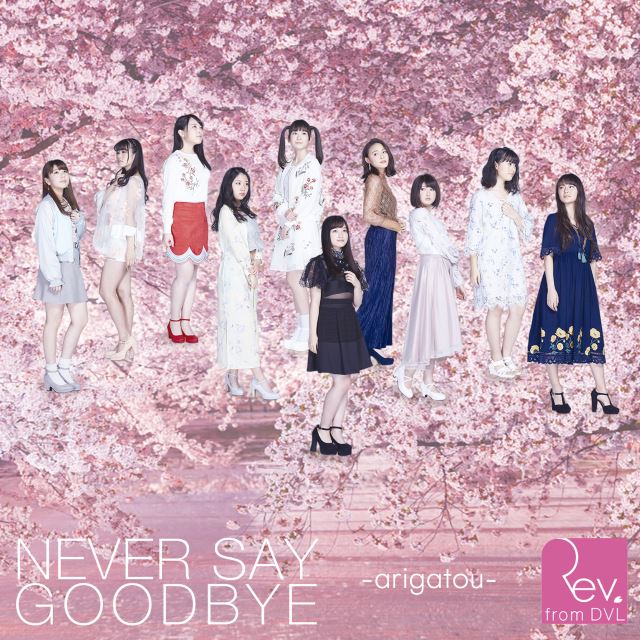 Rev. from DVL announced their break-up, but not without having released an album!
Indeed, the unit will release a best-of album entitled Never Say Goodbye -arigatou – on March 8.
You will find in this album all the songs of the idol group like its 7 singles (since their debut) and their B-side songs.
This album will be available in three editions: one normal, two called "WEB" A and B.
The tracks after the 10th one in the listing are different depending on the edition.
All editions will include a DVD featuring music videos.
You can watch again the MV for Vampire from Rev. from DVL's last single.
The date of the last concert and the graduation ceremony for all members is scheduled on March 31.
Tracklist
Regular Edition

CD

LOVE -arigatou-
Do my best!!
Real (REAL -リアル-)
Kimi ga Ite Boku ga Ita (君がいて僕がいた)
Kimi wo Mitsuketa Ano Hi kara Boku no Omoi wa Hitotsu Dake (君を見つけたあの日から僕の想いは一つだけ)
Okujou Sukima Shiroi Sora (屋上のスキマ 白いソラ)
Vampire
Dream Stars
Ai ni Kinshai (逢いにきんしゃい)
Angel Voice ~Tenshi no Yakusoku~ (…~天使の約束~)
STEP by STEP!
Koi no Monster. (恋のMonster.)
20′s ceremony
Samade!!! (サマデ!!!)
LiVE & Peace
Never Say Goodbye
I Love U

DVD

Vampire (Music Video)
Never Say Goodbye (Music Video)
Never Say Godbye (Music Video Making Image 1)
WEB Type A

CD

LOVE -arigatou-
Do my best!!
Real (REAL -リアル-)
Kimi ga Ite Boku ga Ita (君がいて僕がいた)
Kimi wo Mitsuketa Ano Hi kara Boku no Omoi wa Hitotsu Dake (君を見つけたあの日から僕の想いは一つだけ)
Okujou Sukima Shiroi Sora (屋上のスキマ 白いソラ)
Vampire
Dream Stars
Ai ni Kinshai (逢いにきんしゃい)
wanna be
Eien Puzzle (永遠パズル)
Koi Shite Zukkyūn (恋してズッキューン!)
What a surprise!
Pure My Darling
Ai Girl (愛がーる)
Never Say Goodbye
One More Time

DVD

Vampire (Music Video)
Never Say Goodbye (Music Video)
Never Say Godbye (Music Video Making Image 2)
WEB Type B

CD

LOVE -arigatou-
Do my best!!
Real (REAL -リアル-)
Kimi ga Ite Boku ga Ita (君がいて僕がいた)
Kimi wo Mitsuketa Ano Hi kara Boku no Omoi wa Hitotsu Dake (君を見つけたあの日から僕の想いは一つだけ)
Okujou Sukima Shiroi Sora (屋上のスキマ 白いソラ)
Vampire
Dream Stars
Ai ni Kinshai (逢いにきんしゃい)
Tsukanoma no Koufuku Ron (束の間の幸福論)
50years
Ungaisouten Samurai Tamashii ! (雲外蒼天・サムライ魂!)
Yumemiru Dake Yori (夢見るだけより)
Happy BirthDay
Takaramono (宝物)
Never Say Goodbye
one to 99
Geki Rare Falllin' Love ? (激レアフォーリンラブ?)

DVD

Vampire (Music Video)
Never Say Goodbye (Music Video)
Never Say Godbye (Music Video Making Image 3)
Music Video (PV)