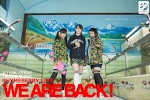 Rap idol unit, Rhymeberry, is back after 8 months of inactivity and they have some changes, the most important of them is that they are now only 3 members. It has been announced that Otawara Yuka known in this group as MC YUKA "has withdrawn because of family circumstances".
The group changed their official twitter account too, they started the new account @rbstko on April 11 and it has a new logo, completely different from the previous one that looked like Chupa Chups logo.
Their official youtube channel has one introduction video showing the new logo, another one with the members introducing themselves and announcing their come back live event which was held in April 27 titled "WE ARE BACK!". Finally they uploaded a third one of the performance of their new song "WE ARE BACK!" which lyrics show the change in their line-up.