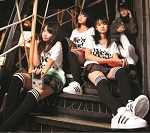 Rhymeberry is going to sign with T-Palette Records in late 2012.
Rhymeberry is a rap idol group consisting of 1 DJ and 3 MC. Its 1st single Hey! Brother was released on July 11.
T-Palette Records is an indie label specializing in idols. It is owned by Tower Records.
The other idols units currently under contract with this label are : Vanilla Beans, Negicco, LinQ, Lyrical School, Shizukaze, Kizuna, and Up Up Girls.