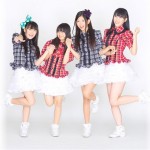 RYUTist Home Live #87 2nd Anniversary Zero and Perfect Moon ~Kawaranai Omoi~ (〜変わらない想い〜) will be released on DVD on December 15.
The DVD includes 2 discs featuring the 16 songs performed at the concert and bonus footage. It was recorded on August 11, 2013 at Live House Niigata Showcase.
Check out a video of RYUTist Home Live.
The limited edition includes footage of the live performance held by RYUTist at the 63rd Snow Festival in Minamiuonuma (第63回南魚沼市雪まつりライブ) in February 2013. It is limited to 100 copies.
Setlist
Arrivals and Departures
MC1
Natsu Fuyu no Mahou (夏・冬の魔法)
Tetsugaku Surunoda (哲学するのだ)
MC2
Arashi wa Nichiyoubi (嵐は日曜日)
Movie 1 (ムービー.1)
RYUTist! ~Atarashii Home~ (RYUTist! ~新しいHome~)
Colorful Milk (カラフル・ミルク)
MC3
Little Princess (リトルプリンセス) (Okada Yukiko)
Shoka Rinrin (初花凛々) (Singer Songer)
MC4
Bitter Pain, Sweet Revenge
Shooting Star (Kotoko)
Movie 2 (ムービー.2)
Ritardando (リタルダンド)
Hanabira Mau Hi ga Kitemo (花びら舞う日がきても)
Wakamono no Subete (若者のすべて) (Fuji Fabric)
MC5
Beat Goes On! ~Yakusoko no Basho~ (~約束の場所~)
Zero and Perfect Moon ~Kawaranai Omoi~ (~変わらない想い~)
MC6
Raririreru (ラリリレル)
Video (Live)