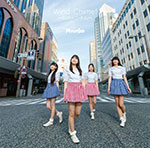 RYUTist's new single Wind Chime -Machi no Tunnel- (Wind Chime!〜街のトンネル〜) will be released on August 10.
This is officially the 3rd single of the idol group from Niigata, even if they released other CDs.
Videos recorded at a live performance and a trailer have been unveiled.
The lyrics of the lead song were written by Takigami Tomoki. The music was composed and arranged by Koji Oba.
The single contains 3 songs including their off vocal versions. Only one edition is available.
Moreover, RYUTist Hom Live ~3rd anniversary Live~ will be held on August 10 at Live House Niigata Show Case.
Tracklist
CD

Wind Chime ~Machi no Tunnel~ (Wind Chime!〜街のトンネル〜)
Churara (チュララ)
Huckleberry (ハックルベリー)
Wind Chime ~Machi no Tunnel~ (Instrumental)
Churara (Instrumental)
Huckleberry (Instrumental)
Videos (Live, PV, trailer)