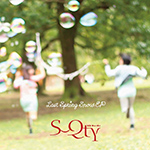 S-Qty's new single Last Spring Snow will be released on May 21.
This is the last single from S-Qty as Yamasaki Asaka and Yamasaki Airi are going to gradute from the idol group.
The songs were produces and written in a hurry by Soulife before the graduation of both members .
Only one edition of the CD is available. It contains 2 songs including a remix by Yamasaki sisters.
Furthermore, S-Qty will hold a last live performance on June 1 at Kurashiki Redbox in Okayama Prefecture.
Tracklist
Last Spring Snow
S-Qtimes!! (Sisters Remix)
Last Spring Snow (Instrumental)
S-Qtimes!! (Instrumental)