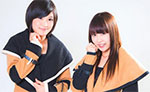 S-Qty (エス・キューティ) is a Japanese idol group formed in 2010 by Stylish Model Agency.
It currently consists of 2 members. Each one of them has been assigned a color.
Yamasaki Asaka and Airi are sisters.
The idol unit is based in Kurashiki in Okayama Prefecture.
S-Qty is a sister group of My Rabbits.
In July 2010, 5 girls passed the audition.
S-Qty debuted in October 2010.
The idol group held its 1st live performance on the same month.
S-Qty released their 1st single Chance no Kami-sama (チャンスの神様) in March 2011.
Ichinose Maika withdrew in November 2011.
Fukuda Miki and Ogawa Yui left the idol unit in October 2012.
After these withdrawals, S-Qty continued their activities as a duo.
The girls will participate in a festival in Taiwan in May 2014 alongside other Japanese local idol group.
Yamasaki Asaka and Airi are going to hold their graduation ceremony on June 1, 2014 during a last live performance at Kurashiki Redbox in Okayama Prefecture.
Profile
S-Qty (エス・キューティ)
Years active : 2010 – 2014
Label : On-do
Agency : Stylish
Members
Yamasaki Asaka (山﨑朝香) – Green
Yamasaki Airi (山﨑愛理) – Yellow
Former Members
Ichinose Maika (一之瀬舞花) – Pink
Fukuda Miki (福田みき) – Blue
Ogawa Yui (小川優衣) – Red
Discography
Singles
16/03/2011 : Chance no Kami-sama (チャンスの神様)
07/12/2011 : Bokke! Okayama!! (ぼっけぇ!おかやま!!)
19/06/2013 : Five☆My Star (Five☆マイスター)
13/11/2013 : Dear Future ~Mirai no Boku e~ (Dear Future~未来のボクへ~)
21/05/2014 : Last Spring Snow
Albums
27/06/2012 : O・P・Q・R・S-Qty
Links
News