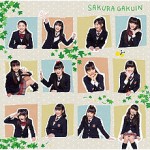 Sakura Gakuin's 3rd album Sakura Gakuin 2012 Nendo ~My Generation~ (さくら学院 2012年度 〜My Generation〜) will be released on March 13.
The album includes 12 songs from Sakura Gakuin and its sub-units Babymetal, Mini-Patissier, Sleepiece, Pastel Wind, and Sakura Gakuin Kagaku Kyumei Kiko Logica?.
The is the last album for Nakamoto Suzuka before she graduates from the group.
Sakura Gakuin's 5th single My Graduation Toss will be released on February 27.
The idol group will hold The Road to Graduation from February 16 to March 31.
Tracklist
CD

Wonderful Journey
Sleep Wonder (スリープワンダー)
Headbanger!! (ヘドバンギャー!!) (Babymetal)
Miracle♪Patiful♪Hamburger (ミラクル♪パティフル♪ハンバーガー) (Mini-Patissier)
Suimin Fusoku (スイミン不足) (Sleepiece)
Scoreboard ni Love Girl (スコアボードにラブがある) (Pastel Wind)
Science Girl▽Silent Boy (サイエンスガール▽サイレンスボーイ) (Sakura Gakuin Kagakubu Kagaku Kyumei Kiko Logica?)
Delta (デルタ) (Sakura Gakuin Kagaku Kyumei Kiko Logica?)
Sakura Iro no Avenue from Suzuka (桜色のアベニュー from Suzuka)
My Graduation Toss
Marshmallow Iro no Kimi to (マシュマロ色の君と)
Tabidachi no Nichi ni ~J-Mix 2012~ (旅立ちの日に ~J-Mix 2012~)
DVD (Type "Sa")

My Graduation Toss (Music Video)
Sakura Gakuin Gakunenmatsu Test (さくら学院 学年末テスト2012)
Members self introduction : Sugisaki Nene, Ooga Saki / Satou Hinata, Mizuno Yui (メンバー他己紹介:杉﨑寧々・大賀咲希 / 佐藤日向・水野由結)
DVD (Type "Ku")

Song for Smiling (Music Video)
Suusan e Kansha no Suprise! ~Classmate wa Eien ni~ (すぅさんへ 感謝のサプライズ!~クラスメイトは永遠に~)
Members self introduction : Nakamoto Suzuka, Sugimoto Mariri / Iida Raura, Isono Rinon (メンバー他己紹介:中元すず香・杉本愛莉鈴 / 飯田來麗・磯野莉音)
DVD (Type "Ra")

Wonderful Journey (Music Video)
"Radio de Sou Matome! ~Sakura Gakuin 2012 Nen no Ayumi~" 2012 Nendo no Kichou na Eizou Shiryou to Tomo ni Omoide Dai Housou!! (『ラジオで総まとめ! ~さくら学院 2012年の歩み ~』2012年度の貴重な映像資料と共に思い出大放送!!)
Members self introduction : Horiuchi Marina, Kikuchi Moa / Taguchi Hana, Notsu Yunano (メンバー他己紹介:堀内まり菜・菊地最愛 / 田口華・野津友那乃)