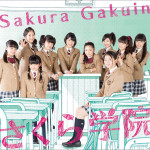 The new album of Sakura Gakuin entitled Sakura Gakuin 2014 Nendo ~ Kimi ni Todoke ~ (さくら学院2014年度 ~君に届け~) was released on last March 25.
This is the 5th album of Sakura Gakuin.
The album includes the recent singles of group released in DVD : Heart no Hoshi, et Aogeba Toutoshi ~From Sakura Gakuin 2014~, what makes this album the first one of the groupe to contain only singles released in DVD format.
The album is available in several editions : a regular one (CD only) and 3 limited ones rated "Sa", "Ku" and "Ra" (CD and DVD extra). Each DVD is different depending on the edition. However, the limited edition "Ra" includes a Blu-ray extra instead of a DVD.
This is the first Sakura Gakuin album with the members Kurashima Sara and Okada Megumi, joining the group in May 2014. It is also the last album with the 4 members, Mizuno Yui, Kikuchi Moa, Taguchi Hana et Notsu Yunano, who graduated from the group on last March 29.
It's probably the last appearance of the sub-unit Cooking Club Minipati (composed by Mizuno, Kikuchi and Taguchi), the only dependant sub-unit of Sakura Gakuin which stayed the most active without hiatus. This album also gave an occasion to the first Sakura Gakuin's sub-unit Baton Club Twinklestars (previously inactive from 2012) to reform and record a new sing for the album. Furthermore, 2 new sub-units formed in 2014, made their first appearance on this album (Wrestling Club et Purchasing Club ; each one containing 2 members only).
The music video of one of the songs from the album, entitled ANIMARHYTHM, was posted on YouTube. You can watch it below.
Tracklist
CD

Mezase! Super Lady -2014 Nendo- (目指せ!スーパーレディー – 2014年度 –)
ANIMARHYTHM (アニマリズム)
Heart no Hoshi (ハートの地球)
Spin in the Wind (Wrestling Club)
Tenshi to Akuma (天使と悪魔) (Baton Club Twinklestars)
HIRARI! KIRA KIRA☆YAMI YAMI MUSEUM (ヒラリ!キラキラ☆ヤミヤミミュージアム) (Cooking Club Minipati)
PIEACE DE CHECK! (ピース de Check !) (Purchasing Club)
Takaramono (宝物)
Gokigen MR. Toropikarori (ご機嫌!Mr. トロピカロリー)
Aogeba Toutoshi ~From Sakura Gakuin 2014~ (仰げば尊し ~ from さくら学院 2014 ~)
Sayonara, Namida. (さよなら、涙。)
Kimi ni Todoke (君に届け)
Limited Edition "Sa" DVD

Heart no Hoshi (Music Video)
Sakura Gakuin 2014 Nendo ~Kimi ni Todoke~ (Video Footage)
Limited Edition "Ku" DVD

ANIMARHYTHM (Music Video)
Sakura Gakuin 2014 Nendo ~Kimi ni Todoke~ (Video Footage) (2)
Limited Edition "Ra" Blu-ray

Heart no Hoshi (Dance Video)
ANIMARHYTHM (Music Video)
Aogeba Toutoshi ~From Sakura Gakuin 2014~ (Music Video) (Alternate Version)
Music Video (PV)