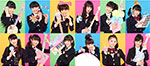 Sakura Gakuin will hold a series of concerts titled The Road to Graduation from February 16 to March 31.
The concerts will take place in Tokyo.
Sakura Gakuin's 5th single My Graduation Toss will be released on February 27.
Nakamoto Suzuka will graduate from the group after the final live.
Sakura Gakuin – The Road to Graduation III ~Happy Valentine Thank you for your Smile~
Date : 16/02/2013
Time : 15:00 / 18:30
Venue : Shimokitazawa Garden, Tokyo
Sakura Gakuin – The Road to Graduation II ~Kiritsu! Ki wo Tsuke! Let's☆Standing~
(さくら学院「The Road to Graduation II ~起立! 気をつけ! レッツ☆スタンディング~」)
Date : 17/02/2013
Time : 15:00 / 18:30
Venue : Kichijoji Club Seata, Tokyo
Sakura Gakuin – The Road to Graduation I ~2012 Nendo Sakura Gakuin Houkago Anthology Live the Party~
(さくら学院「The Road to Graduation I ~2012年度 さくら学院 放課後アンソロジー Live The Party~」)
Date : 29/03/2013
Time : –
Venue : Shibuya Club Quattro, Tokyo
Sakura Gakuin – The Road to Graduation Final ~Sakura Gakuin 2012 Nendo Sotsugyou~
(さくら学院「The Road to Graduation Final ~さくら学院 2012年度 卒業~」)
Date : 31/03/2013
Time : –
Venue : Tokyo International Forum