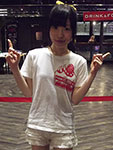 Machikado Keiki Japan (街角景気☆Japan↑) is an idol group formed in 2013. They are a part of Alice Project (アリスプロジェクト).
The unit has an original concept : the length of the skirts of the members is determined by the evolution of the Nikkei stock average.
Check out out interview with Sakura Yuki (桜雪) from Machikado Keiki Japan.
Could you introduce yourself ?
My name is Sakura Yuki. I am a member of Machikado Keiki Japan and Steamgirls (スチームガールズ).
What is the concept of Machikado Keiki Japan ?
Machikado Keiki Japan has been created to encourage Japanese economy. The length of our skirts change. They are becoming shorter when Japan's stock market is rising.
Many medias from all over the world talked about this original concept. What do you think about this international coverage ?
I am so happy because we don't have a political message. We just want to give smile to people. They may feel funny about us but we are glad to give them some happiness.
Could you say a few words about your 1st single Abeno Mix (アベノ☆Mix) ?
The title Abeno Mix refers to "Abenomics" which is the name given to the Prime Minister Shinzo Abe's plan for the Japanese economic recovery. It is a pop song. There are many economics terms in the lyrics, but even people who don't have any knowledge in economy can enjoy it.
You perform everyday at P.A.R.M.S. Theater in Akihabara. What do you think about this place ?
It is very good for us to have our own theater in Akihabara because Akihabara is an important place for idols. This district is the origin of the idols. Many fans can come here.
Do you have other activities ?
I am a student at the University of Tokyo. I have a lot of activities at the university like, for example, making internet or radio programs, being a reporter…
Do you have a message for your fans ?
I want to hold a live performance anywhere in the world. But we have to fight in Akihabara because there are many idols here. We are called "underground idols". It means that we are not as popular as Japanese major idols like AKB48 or Momoiro Clover Z. So if we can become major idols, we will hold a live overseas.
We would like that foreign fans come to see Machikado Keiki Japan here in Akihabara to encourage us.
Thanks to Sakura Yuki and the staff of Alice Project.
Related articles :