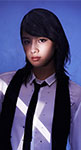 Sakura Nanami (bump.y) will make an appearance in the drama Miss Pilot (ミス・パイロット).
Sakura Nanami will play the role of Abeno Suzu, a girl in love with Kishi Taiji (Mamiya Shotaro).
The story is about a girl, Tezuka Haru, who is a student trying to become a pilot. The leading role is played by Horikita Maki.
The drama will start airing in October on Fuji TV.
The series is made in collaboration with the airline company ANA (All Nippon Airways).