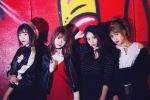 Sanmini) announced their disbandment.
This announcement was made last month via the official blog of the idol group.
The main reason is that the members of Sanmini want to pursue their own way by starting individual careers.
Their last concert will take place on 1 July at the TSUTAYA o-nest in Tokyo.
The idol group Sanmini was formed in 2011 and is from the Akihabara district (in Tokyo) ; the girls perform electrodance music and house songs with a duration of 3 minutes.