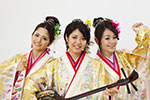 Sansanar (サンサナー) is a Japanese female group formed in 2010.
It currently consists of 3 members.
The unit is from Okinawa.
The name of the band means "cicada" in the local language.
Sansanar perform the Ryukyu dance and a mix of j-pop and traditional songs from Okinawa which make their style unique. The girls classify their music as "Minyo Neo Pop" or "Neo Okinawa Pop".
Yurie plays the sanshin (三線), a Japanese traditional three-stringed instrument which is a precursor to the shamisen (三味線).
Asa plays Okinawan instruments such as the sanba (三板), the flute (笛), and the kokyu (胡弓).
The band held its 1st live performance at the Ryukyu Festival (琉球フェスティバル) in October 2010.
Their debut album was released in February 2011.
Their 2nd album was released in Taiwan in 2012.
The girls participated in Japan Expo in Paris Nord Villepinte (France) in 2013 and 2014.
They appeared in a TV commercial for Chura Time (オリオン ちゅらたいむ) beer from Orion (オリオン) and Asahi (アサヒ) in summer 2014.
Profile
Sansanar (サンサナー)
Years active : 2010 – present
Label : –
Agency : –
Members
Yurie (ユリエ) – Kaneshiro Yurie (金城優里英)
Asa (アーサ) – Nishiyama Asako (西山朝子)
Ai (アイ) – Moriyama Ai (森山亜衣)
Discography
Singles
Albums
16/02/2011 : Sansanar (サンサナー)
12/10/2011 : Sansanar 2 (サンサナー2)
19/06/2013 : Sansanar 3 (サンサナー3)
23/07/2014 : Sansanar 4 (サンサナー4)
Links
News