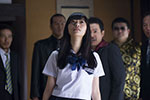 Sashihara Rino (HKT48) will be starring in the movie Barairo no Buko (薔薇色のブー子).
Barairo no Buko is a comedy. Sashihara Rino is playing the leading role.
In addition, Kojima Haruna (AKB48) is also making an appearance in the movie.
Check out the trailer and some photos.
The movie will be released on May 30 in theaters in Japan.
Barairo no Buko was directed by Fukuda Yuichi who worked on HK and Hentai Kamen (変態仮面) in the past.
The theme song Shake It Up Baby (シェキナベイベー) performed by Uchida Yuya feat. Sashihara Rino.
Trailer