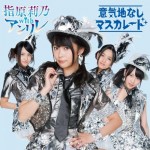 Sashihara Rino's 2nd single Ikujinashi Masquerade (意気地なしマスカレード) will be released on October 17.
Sahihara Rino (HKT48) collaborated with AnRiRe (AKB48 subunit) for this single.
AnRiRe is a new unit consisting of AKB48 members Iriyama Anna, Kawaei Rina and Kato Reina.
Each CD comes with a DVD featuring a different version of the music video.
Ikujinashi Masquerade will be used as the theme song for the movie Muse no Kagami My Pretty Doll starring Sashihara Rino.
Type A
CD

Ikujinashi Masquerade (意気地なしマスカレード)
Soft Cream Kiss (ソフトクリーム・キス)
If no Mousou (ifの妄想)
Ikujinashi Masquerade (意気地なしマスカレード) (Instrumental)
Soft Cream Kiss (ソフトクリーム・キス) (Instrumental)
If no Mousou (ifの妄想) (Instrumental)
DVD

Ikujinashi Masquerade (意気地なしマスカレード) (Music Video ~Kawaei Rina Center Version~)
Type B
CD

Ikujinashi Masquerade (意気地なしマスカレード)
Soft Cream Kiss (ソフトクリーム・キス)
Maji de Koi Suru 5-byou Mae (MajiでKoiする5秒前)
Ikujinashi Masquerade (意気地なしマスカレード) (Instrumental)
Soft Cream Kiss (ソフトクリーム・キス) (Instrumental)
Maji de Koi Suru 5-byou Mae (MajiでKoiする5秒前) (Instrumental)
DVD

Ikujinashi Masquerade (意気地なしマスカレード) (Music Video ~Sashihara Rino Center Version~)
Type C
CD

Ikujinashi Masquerade (意気地なしマスカレード)
Soft Cream Kiss (ソフトクリーム・キス)
Ikujinashi Masquerade (意気地なしマスカレード) (Hakata-ben Version)
Ikujinashi Masquerade (意気地なしマスカレード) (Instrumental)
Soft Cream Kiss (ソフトクリーム・キス) (Instrumental)
DVD

Ikujinashi Masquerade (意気地なしマスカレード) (Music Video ~Movie Muse no Kagami My Pretty Doll~ Special Edition)