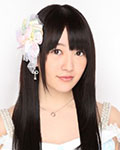 Sato Amina announced her graduation from AKB48. The date of her graduation ceremony hasn't been revealed yet.
Sato Amina decided to leave the idol group in order to become a seiyuu (voice actress). She has already experience in voice acting as she played as Ichijo Yuka in the anime series AKB0048.
Sato Amina, nicknamed Aminya, is a member of Team K and of the sub-unit No Name. She joined AKB48 in 2007 as a Kenkyuusei. She was promoted to Team A  in April 2008. She was transferred to Team B in October 2009, and moved to Team K in August 2012.
Sato Amina reached the 8th rank at the AKB48 Senbatsu General Election 2009 (AKB48 13thシングル選抜総選挙).