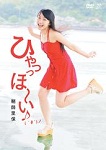 Sayashi Riho's (Morning Musume) 2nd DVD Hyahhoi (ひゃっっほ~い) will be released on September 26.
The DVD contains footage of scenes (swimsuit, uniform and other outfit) and making of photobook.
Shootings were made in Okinawa and Kyushu in June and July.
It completes Sayashi Riho's photobook Un Deux Trois released on August 27.