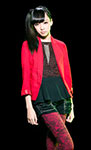 Sema Ayami announced her graduation from Prizmmy☆.
Her graduation ceremony will be held during her last live performance which will take place on March 30 at Akihabara Cultures Theater in Tokyo.
The reasons were not given by the staff. More details will be announced later.
Sema Ayami is 12 years old. She is a member of Prizmmy☆ since the debut of the idol unit in 2012.
Furthermore, Prizmmy☆'s 10th single Butterfly Effect is on sale since February 5. It is the opening theme song for the anime Pretty Rhythm: Rainbow Live (プリティーリズム・レインボーライブ).