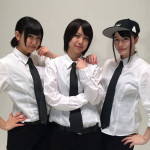 Seno Sister (せのしすたぁ) is Japanese idol group formed in September 2012.
It currently consists of 3 members.
The idol unit is based in Fukui prefecture.
Biography / History
Their music is produced by Seno Sound with a contemporary style and taste of 80's songs.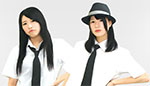 Seno Sister released their 1st album I'm Sick !!! in October 2013.
Yuma announced her graduation in December 2013.
Yuuho left the idol group in April 2014.
Yutan and Mika joined Seno Sister as new members in April 2014.
The girls were elected as Fukui Prefecture representatives for Lawson's Jimodol Festa (ジモドルフェスタ) campaign in 2014.
8 songs, including their digital singles Tonight and Jumping, are available for free download.
Mao, Yutan and Mika are also members of Ami~Gas.
Profile
Seno Sister (せのしすたぁ)
Years active : 2012 – present
Label : Idol Show Case
Agency : Creative Office Showcase
Members
Mao (まお)
Yutan (ゆーたん)
Mika (みか)
Former Members
Discography
Digital Singles
2014 : Tonight
2015 : Jumping
Albums
10/10/2013 : I'm Sick!!!
16/12/2014 : I'm Sick Too!!!
Links
News