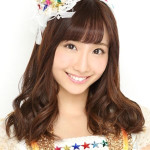 Shibata Aya announced her graduation from SKE48.
This announcememnt was made on June 24 during her Nico Nico live stream program.
She explained that her dream is to be an television personality and that she finished her adventure with SKE48. She would study new things, do her best and persevere in the artistic domain.
The date of her graduation ceremony wasn't determined yet, however, it was announced that she will leave the group at the end of August.
Shibata Aya is a member of SKE48 since 2010 and is actually part of Team E. She is 22 years old.