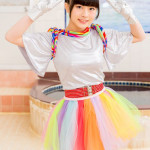 Shigematsu Yuka (重松佑佳) announced her graduation from Niji no Conquistador.
This announcement was made on June 14.
Shigematsu Yuka explained the reasons of this decision through an interview : her dream is to be a doctor ; she was thinking about this job for several years.
She'll leave the idol group on next September 10.
Shigematsu Yuka is member of Niji no Conquistador since its debut in August 2014.