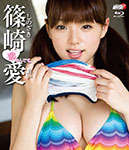 Shinozaki Ai's new Blu-ray Koi Nandesu (恋なんです。) will be released on April 18.
It includes sexy footage of the energetic and busty girl. Various scenes show Shinozaki Ai in a park, in bed, bouncing, dancing, and transmitting her energy.
Shinozaki Ai is a gravure idol and a member of AeLL.
Koi Nandesu (恋なんです。) is the Blu-ray version of her DVD of the same title which was released in December 2011.
Furthermore, AeLL's new album 4/4 Yon Bun no Yon will go on sale on April 9.
Check out some photos of Shinozaki Ai below.