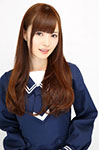 Shirashi Mai (Nogizaka46) was appointed as an exclusive model for the fashion magazine Ray (レイ).
Shiraishi Mai will appear in the May issue of the magazine which will be released on March 23. She has already appeared 3 times in it as a guest model since last year.
Shiraishi Mai, 20 years old, is a member of Nogizaka46.
Moreover, Nogizaka46's 5th single Kimi no Na wa Kibou (君の名は希望) sold 242,053 copies in its first week.