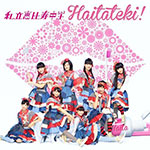 Shiritsu Ebisu Chuugaku's new single Haitateki! (ハイタテキ!) will be released on November 5.
It is the theme song for the drama Koukaku Fudou Senki Robosan (甲殻不動戦記 ロボサン) starring Ebichu members. The series will start airing on TV Tokyo and TV Osaka on October 17.
The MV and its dance version have been unveiled. However the viewing is restricted to some countries.
The members of Shiritsu Ebisu Chuugaku are wearing colorful blue, white and red dresses on their new profile pictures and on the videos.
The lyrics of Haitateki! (ハイタテキ!) were written by Takuya and Meg.me. Takuya also composed the music.
The coupling song Namida wa Niawanai (涙は似合わない) was written and composed by A.F.R.O..
3 versions are available.
Furthermore, Shiritsu Ebisu Chuugaku Autumn Sony Music Label Zuha Nuke Tour 2014 ~Doukasen Bachibachi hahaha n~ (私立恵比寿中学オータムソニー・ミュージックレーベルズハヌケツアー2014~どうかせんぱちぱちhahahaん~) was held froù September 15 to October 12.
Ebichu will give other concerts on November 3 at Yokohama Arena and on November 8 at Kobe World Hall.
Tracklist
Regular Edition

CD

Haitateki! (ハイタテキ!)
Namida wa Niawanai (涙は似合わない)
Chupakabra (チュパカブラ)
Haitateki! (Instrumental)
Namida wa Niawanai (Instrumental)
Chupakabra (Instrumental)
Type A

CD

Haitateki! (ハイタテキ!)
Namida wa Niawanai (涙は似合わない)
Haitateki! (Instrumental)
Namida wa Niawanai (Instrumental)

DVD

Haitateki! (Music Video)
Making-of
Type B

CD

Haitateki! (ハイタテキ!)
Namida wa Niawanai (涙は似合わない)
Can't Stop the Loneliness
Haitateki! (Less Vocal)
Namida wa Niawanai (Less Vocal)
Can't Stop the Loneliness (Less Vocal)
Music Video (PV)