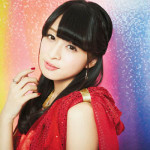 Shishima Saki announced her graduation from GALETTe.
She is going to leave the idol group after a last live performance GALETTe Grooving Party 2016 Rising on February 6th at Tokyo WWW.
Shishima Saki commented on her blog :  « I'm sorry for this sudden announcement. But it is a positive graduation. I've spent a lot of time with beloved members. I feel happy for all the experiences I've had. From now on, I will follow my own path. »
Shishima Saki is an original member of GALETTe. She joined the idol group in August 2013. She was previously part of CQC's.