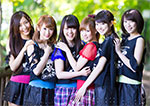 Mizuno Haruko has just graduated from Shizukaze & Kizuna due to poor physical health.
She decided to retire from the entertainment industry.
As a result, the 5 other members of Shizukaze & Kizuna had a discussion with the staff and announced their graduation next summer.
This will mark the end of the activities of the idol group formed after 6 years of collaboration.
Now that they have finished studies and entered working life, each member wants to follow her own path.
The date of Shizukaze & Kizuna's graduation live and ceremony hasn't been determined yet.
Furthermore, you can read our interview with Mizuno Haruno made in August 2013.