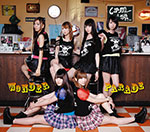 Shizukaze & Kizuna will release their new single Wonder Parade on August 19.
This is the first single from Shizukaze & Kizuna for one year and a half.
The CD is produced by Yamashita Tomoki (Alfred) who usually works for idol groups such as Hime Kyun Fruit Can and nanoCUNE. He wrote the lyrics of both songs. He has also composed and arranged the music.
Shizukaze & Kizuna perform a mix of rock and j-pop idol songs.
Tracklist
Wonder Parade
Toki Make Life (トキメイクライフ)
Wonder Parade (Instrumental)
Toki Make Life (トキメイクライフ) (Instrumental)