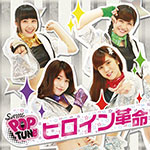 SiAM&POPTUNe's new single Heroine Kakumei (ヒロイン革命) was released on August 6.
This is the 3rd single from SiAM & POPTUNe.
2 versions are available. The track listing is the same for each one of them. The limited edition comes with a bonus DVD.
Furthermore, SiAM&POPTUNe will hold their 2nd Live on September 21 at Tokyo FM Hall.
Tracklist
 CD

Heroine Kakumei (ヒロイン革命)
Hatten Joushou Map (発展上昇Map)
Heroine Kakumei (Instrumental)
Hatten Joushou Map (Instrumental)