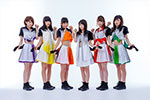 SiAM&POPTUNe's 5th single Natsu ni Koi Shite (夏に恋して) will be released on July 29.
The members of SiAM&POPTUNe aim to reach the top 10 on the Oricon weekly chart with this single.
The full version of the MV has been revealed.
The music video shooting was located at Hayama Marina.
The lyrics of Natsu ni Koi Shite were written by Kurei (Kimaguren). It is a classic idol summer song.
There are 3 editions. The B-side track is different for each one.
Brisk Start is a song that SiAM&POPTUNe fans already know.
Believe is an electro dance music (EDM) tune.
Kimi Iro Cider (君色サイダー) is a lovely song depicting the sweet and sour feelings of a girl.
SiAM&POPTUNe is an idol group produced the HΛL.
Tracklist
Type A

Natsu ni Koi Shite (夏に恋して)
Brisk Start
Natsu ni Koi Shite (Instrumental)
Brisk Start (Instrumntal)
Type B

Natsu ni Koi Shite
Believe
Natsu ni Koi Shite (Instrumental)
Believe (Instrumntal)
Type C

Natsu ni Koi Shite
Kimi Iro Cider (君色サイダー)
Natsu ni Koi Shite (Instrumental)
Kimi Iro Cider (Instrumntal)
Music Video (PV)