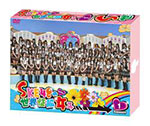 The season 1 of the variety show SKE48 no Sekai Seifuku Joshi (SKE48の世界征服女子) hosted by SKE48 will be released on DVD on June 17.
The season 1 consists of 13 episodes.
The limited edition comes with a bonus disc featuring behind-the-scene footage, interview with 5th generation members, the TV program SKE48 no Idol x Idol (SKE48のアイドル×アイドル) broadcasted on December 6, 2010, and more. It also includes an original booklet, a questionnaire collection written by 5th generation members, and 6 trading cards randomly selected from 69 kinds.
The regular editions contain 4 or 5 episodes. They come with 2 trading cards.
List of season 1 episodes
Episode 1 : SKE48 Hobo Zenin ni Kikimashita (SKE48ほぼ全員に聞きました)
Episode 2 : SKE48 vs India (SKE48 vs インド)
Episode 3 : SKE48 vs Turkey (SKE48 vs トルコ)
Episode 4 : SKE48 vs Romania (SKE48 vs ルーマニア)
Episode 5 : SKE48 vs Morocco (SKE48 vs モロッコ)
Episode 6 : SKE48 vs Ghana (SKE48 vs ガーナ)
Episodes 7 & 8 : SKE48 vs Spain (SKE48 vs スペイン)
Episodes 8 & 9 : SKE48 vs Russia (SKE48 vs ロシア)
Episode 10 & 11 : SKE48 vs USA (SKE48 vs USA)
Episode 12 : Ima Sara Kikenai SKE48 no Kiso Chishiki (今さら聞けないSKE48の基礎知識)
Episode 13 : Studio ni Matsui Rena ga Yattekuru! (スタジオに松井玲奈がやってくる!)
Limited Edition
Episodes 1-13
Behind-the-scene footage
Interview with 5th generation members
SKE48 no idol x Idol
Booklet
6 trading cards
Vol.1
Episodes 1-4
2 trading cards
Vol.2
Episodes 5-9
2 trading cards
Vol.3
Episodes 10-13
2 trading cards