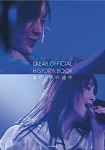 SKE48 Official History Book ~Mada, Yume no Tochuu~ (まだ、夢の途中) will be released on December 21.
The book traces the history of SKE48 from their debut in 2008 to today. It is a photo documentary. It contains testimonials and revelations from the group members, as well as photos of live performances, lessons, backstage…
This book on AKB48 sister group based in Nagoya has 196 pages.