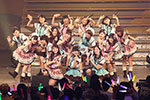 SKE48 Request Hour Setlist Best 2014 (SKE48リクエストアワーセットリストベスト2014) is being held on November 1-2.
The song Mushi no Ballad was ranked 1st. Shoujo wa Manatsu ni Nani wo Suru? and Me ga Itai Kurai Hareta Sora reached the 2nd and the 3rd rank.
Check out the full results of SKE48 Request Hour Setlist Best 2014.
Fans could vote for their favorite song among the 242 songs of the idol group.
The event took place at the Nagoya Congress Center Century Hall​.
There are 2 live performances per day.
Kiss wa Dame Yo reached the 242th and last rank with only 4 votes.
Graduated members Kuwabara Mizuki, Takada Shiori, Akaeda Ririna, Hara Minami and Kobayashi Emiri appeared as surprise guests on the 1st day.
The title and list of the Senbatsu members of SKE48's 16th single 12 Gatsu no Kangaroo (12月のカンガルー) were announced on the 2nd day.
Moreover, Matsumura Kaori will release a solo photobook soon.
Furthermore, the trailer has been released.
Ranking
100. Anata to Christmas Eve
99. Banzai Venus
98. 1!2!3!4! Yoroshiku
97. Theater no Megami
95. Cosmos no Kioku
95. Omatase Setlist
94. Kokoro no Hashi no Sofa
93. Shalala na Calendar
92. Boku no Taiyou
91. Aishiteraburu
90. Tenshi no Shippo
89. Kiss Datte Hidarikiki
88. Mangekyou
87. Hatsukoi no Fumikiri
86. Coming soon
85. GALAXY OF DREAMS
84. Chime wa LOVE SONG
83. Ai no Kazu
82. Kiseki wa Ma ni Awanai
81. Futari Dake no Parade
80. Utsukushii Inazuma
79. Choco no Yukue
78. Seishun no Mizushibuki
77. Sayonara Kinou no Jibun
76. JYURI-JYURI BABY
75. Te wo Tsunaginagara
74. Dareka no Sei ni wa Shinai
73. Halation
72. Kamoku na Tsuki
71. Bazooka Hou Hassha!
69. S-Ko to Uso Hakkenki
69. Oki Doki
68. Bungee Sengen
67. Kizashi
66. Atto Iu Ma no Shoujo
65. Choco no Dorei
64. Hanabi wa Owaranai
63. Pareo wa Emerald
62. Arashi wa Yoru ni wa
61. Itoshisa no Defense
60. Sansei Kawaii
59. Darkness
58. Wimbledon e Tsureteitte
56. Zakuro no Jitsu wa Yuutsu ga Nantsubu Tsumatteiru?
55. Hohoemi no Postivie Thinking
54. Idol Nante Yobanaide
53. Dakishimeraretara
52. Through the Night
51. Aozora Kataomoi
50. Kataomoi Finally
49. Ai no Iro
48. Koe ga Kasureru Kurai
47. Nakama no Uta
46. Ame no Pianist
45. Glory Days
44. Hatsukoi yo, konnichiwa
43. Koi wo Kataru Shijin ni Narenakute…
42. Bokura no Kizuna
41. Ookami to Pride
40. Yokaze no Shiwaza
39. Nante Ginga wa Akarui no Darou
38. Mirai to wa?
37. Hazumisaki
36. Kodoku na Ballerina
35. Kamigami no Ryouiki
34. Himawari
33. Gomenne、Summer
32. Tsuyogari Dokei
31. Wagamama na Nagareboshi
30. Kagami no Naka no Jeanne D'Arc
29. Mitsubachi Girl
28. Finland Miracle
27. Banana Kakumei
26. Namida no Shounan
25. Team KII Oshi
24. Taiikukan de Choushoku wo
23. To Be Continued
22. Two Roses
21. Manazashi Sayonara
20. Usotsuki na Dachou
19. Bukiyou Taiyou
18. Higurashi no Koi
17. Itsunomanika Yowaimonoijime
16. Ashita no Tame ni Kiss wo
15. Nice to Meet You
14. Canaria Syndrome
13. Matsumurabu
12. Houkago Race
11. Aun no Kiss
10. Yuudachi no Mae
9. Koko De Ippatsu
8. Cross
7. Koi Yori mo Dream
6. Escape
5. Kareha no Station
4. Omoide Ijou
3. Me ga Itai Kurai Hareta Sora
2. Shoujo wa Manatsu ni Nani wo Suru?
1. Mushi no Ballad
Video (Trailer)