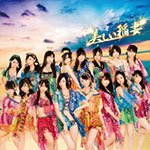 SKE48's 12th single Utsukushii Inazuma (美しい稲妻) will be released on July 17.
Each version of the single includes 2 different coupling songs.
The regular and the limited editions come with a DVD featuring 2 music videos and bonus footage.
The limited editions include a ticket for a hanshaking session, a voting ticket for SKE48 Request Hour 2013 (リクエストアワー2013), and a photo of a member randomly selected from 16 kinds.
The list of the senbatsu members and the line-ups for the coupling songs were also announced.
Line-ups
Senbatsu Members
Team S : Oya Masana, Kizaki Yuria, Matsui Jurina, Ishida Anna, Mukaida Manatsu et Niidoi Sayaka
Team KII : Suda Akari, Oba Mina, Takayanagi Akane, Furukawa Airi, Yakata Miki
Team E : Kinoshita Yukiko, Suga Nanako, Matsui Rena, Kimoto Kanon, Furuhata Nao
Selection 8
Team S : Sato Seira, Deguchi Aki
Team KII : Takeuchi Mai, Futamura Haruka
Team E : Iwanaga Tsugumi, Kaneko Shiori, Kito Momona, Suga Nanako
Boatopia Senbatsu
Team S : Oya Masana, Yakata Miki
Team KII : Suda Akari, Takayanagi Akane, Furukawa Airi
Team E : Matsui Rena
Kenkyuusei : Matsumura Kaori
Magical Band
Team K : Kitahara Rie
Team S : Kizaki Yuria
Team KII : Takayanagi Akane
Team E : Kimoto Kanon
Graduated Members : Ogiso Shiori, Hata Sawako, Yagami Kumi
Tracklist
Type A
CD

Utsukushii Inazuma (美しい稲妻)
Jyuri-Jyuri Baby (Team S)
Through the Night (スルー・ザ・ナイト) (Selection 8)
Utsukushii Inazuma (美しい稲妻)
Jyuri-Jyuri Baby (Team S) (Instrumental)
Through the Night (スルー・ザ・ナイト) (Selection 8) (Instrumental)
DVD

Utsukushii Inazuma (美しい稲妻) (Music Video)
Jyuri-Jyuri Baby (Team S) (Music Video)
SKE48 Team Tai! Inazuma! Gachi Cooking Battle 1st Part (「SKE48チーム対!稲妻!ガチクッキングバトル」前編)
Type B
CD

Utsukushii Inazuma (美しい稲妻)
2-nin dake no Parade (2人だけのパレード) (Team KII)
Seishun no Mizushibuki (青春の水しぶき) (Boat Peer Senbatsu)
Utsukushii Inazuma (美しい稲妻)
2-nin dake no Parade (2人だけのパレード) (Team KII) (Instrumental)
Seishun no Mizushibuki (青春の水しぶき) (Boat Peer Senbatsu) (Instrumental)
DVD

Utsukushii Inazuma (美しい稲妻) (Music Video)
2-nin dake no Parade (2人だけのパレード) (Team KII) (Music Video)
SKE48 Team Tai! Inazuma! Gachi Cooking Battle 2nd Part (「SKE48チーム対!稲妻!ガチクッキングバトル」中編)
Type C
CD

Utsukushii Inazuma (美しい稲妻)
Shalala na Calendar (シャララなカレンダー)
Band wo Yarou yo (バンドをやろうよ) (Magical Band)
Utsukushii Inazuma (美しい稲妻) (Instrumental)
Shalala na Calendar (シャララなカレンダー) (Instrumental)
Band wo Yarou yo (バンドをやろうよ) (Magical Band) (Instrumental)
DVD

Utsukushii Inazuma (美しい稲妻) (Music Video)
Shalala na Calendar (シャララなカレンダー) (Music Video)
SKE48 Team Tai! Inazuma! Gachi Cooking Battle 3rd Part (「SKE48チーム対!稲妻!ガチクッキングバトル」後編)
Theater Edition
CD

Utsukushii Inazuma (美しい稲妻)
Yuudachi no mae (夕立の前) (Kenkyuusei)
SKE48 12th Single Medley
Utsukushii Inazuma (美しい稲妻) (Instrumental)
Yuudachi no mae (夕立の前) (Kenkyuusei) (Instrumental)
Music Video (Special Edit Ver.)