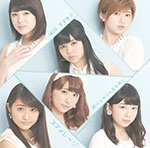 S/mileage's 17th single Aa Susukino / Chikyuu wa Kyou mo Ai wo Hagukumu (嗚呼 すすきの / 地球は今日も愛を育む) will be released on August 20.
As for S/mileage's latest releases, this is a double A-side single.
The MVs have been unveiled.
The regular editions come with the photo of a member of the idol group randomly selected.
The limited editions include bonus DVD featuring various versions of the music videos and making-of footage. They also include a ticket for a handshake event.
Furthermore, the book S/mileage 3 ~6 nin de Full Charge~ (スマイレージ③ ~6人で Full Charge~) is on sale since July 25. It includes photos from their Spring live tour, interviews with the members…
Tracklist
Type A / C

CD

Aa Susukino (嗚呼 すすきの)
Chikyuu wa Kyou mo Ai wo Hagukumu (地球は今日も愛を育む)
Aa Susukino (Instrumental)
Chikyuu wa Kyou mo Ai wo Hagukumu (Instrumental)

DVD (Type A)

Aa Sukino (Music Video)

DVD (Type C)

Aa Sukino (Dance Shot ver.)
Aa Sukino (Making-of)
Type B / D

CD

Chikyuu wa Kyou mo Ai wo Hagukumu (地球は今日も愛を育む)
Aa Susukino (嗚呼 すすきの)
Chikyuu wa Kyou mo Ai wo Hagukumu (Instrumental)
Aa Susukino (Instrumental)

DVD (Type B)

Chikyuu wa Kyou mo Ai wo Hagukumu (Music Video)

DVD (Type C)

Chikyuu wa Kyou mo Ai wo Hagukumu (Dance Shot ver.)
Chikyuu wa Kyou mo Ai wo Hagukumu (Making-of)
Music Video (PV)