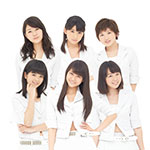 S/mileage Live Tour 2014 Haru ~Smile Charge~ (スマイレージ ライブツアー2014春 ~スマイルチャージ~) will last 4 months from January 23 to May 25.
During this concert tour, S/mileage will hold 28 live performances spread over 20 dates across Japan.
Furthermore, S/mileage's 15th single Eeka!? / Iiyatsu (ええか!? / 「良い奴」) will be on sale on December 18.
Schedule
23/01/2014 : Heaven's Rock Kumagaya VJ-1, Saitama
28/01/2014 : Thunder Snake Atsugi, Kanagawa
22/02/2014 : Sapporo Penny Lane 24, Hokkaido
23/02/2014 : Otaru Goldstone, Hokkaido
15/03/2014 : Drum Be-1, Fukuoka
16/03/2014 : Drum Be-0, Oita
22/03/2014 : Live House Hamamatsu, Shizuoka
23/03/2014 : Gifu Club G, Gifu
05/04/2014 : Sunash, Shizuoka
06/04/2014 : U☆Stone, Shiga
12/04/2014 : Kobe Varit, Hyogo
13/04/2014 : Toyohashi ell.knot, Aichi
19/04/2014 : Hiroshima Club Quattro, Hiroshima
20/04/2014 : Okayama Crazy Mama Kingdom, Okayama
05/05/2014 : Nara Neverland, Nara
06/05/2014 : Kyoto Muse, Kyoto
10/05/2014 : Morioka Club Change Wave, Iwate
11/05/2014 : Sendai Darwin, Miyagi
24/05/2014 : Kofu Kazoo Hall, Yamanashi
25/05/2014 : Nagano Club Junk Box, Nagano