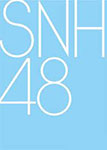 SNH48 is a Chinese idol group formed in December 2012 and produced by Akimoto Yasushi.
It currently consists of several members including 2 "foreign students" from AKB48 (Suzuki Mariya, Miyazawa Sae).
SNH48 is the 3rd sister group of AKB48 outside Japan, following JKT48 and TPE48. Its name is an accronym for Shanghai, China, where the unit is based.
SNH48 released their 1st single Heavy Rotation (无尽旋转, Wújìn Xuánzhuǎn) in June 2013. It is the translation of AKB48's song into Chinese Mandarin.
In the same month, they participated in their first live event overseas at Asia Style Collection in Singapore alongside with AKB48.
SNH48 Theater opened in August 2013.
SNH48 Team SII and Team NII were created in November 2013.
Profile
SNH48
Years active : 2012 – present
Label : –
Agency : –
Members
Team SII
Chen GuanHui (陈观慧)
Chen Si (陈思)
Dai Meng (戴萌)
Dong ZhiYi (董芷依)
Gu XiangJun (顾香君)
Jiang YuXi (蒋羽熙)
Kong XiaoYin (孔肖吟)
Li YuQi (李宇琪)
Mo Han (莫寒), captain
Qian BeiTing (钱蓓婷)
Qiu XinYi (邱欣怡)
Sun Rui (孙 芮)
Shen ZhiLin (沈之琳)
Tang Min (汤敏)
Wen JingJe (温晶婕)
Wu ZheHan (吴哲晗)
Xu ChenChen (徐晨辰)
Xu JiaQi (许佳琪)
Xu ZiXuan (徐子轩)
Yuan YuZhen (袁雨桢)
Yu HuiWen (俞慧文)
Zhao JiaMin (赵嘉敏)
Zhang YuGe (张语格)
Team NII
Chen JiaYao (陈嘉瑶)
Chen JiaYing (陈佳莹)
Dong YanYun (董艳芸)
Feng XinDuo (冯薪朵)
Gong ShiQi (龚诗淇)
Hu SiYi (胡思奕)
Huang TingTing (黄婷婷)
He XiaoYu (何晓玉)
Ju JingYi (鞠婧祎)
Luo Lan (罗兰)
Lv SiQin (吕思琴)
Lin SiYi (林思意)
Lu Ting (陆婷)
Li YiTong (李艺彤)
Meng Yue (孟玥)
Tang AnQi (唐安琪)
Wang JiaLu (王佳路)
Wan LiNa (万丽娜)
Wang YiJun (王依君)
Xu YanYu (徐言雨)
Yi JiaAi (易嘉爱)
Yang YaRu (杨雅如)
Zhao Yue (赵粤)
Zeng Yanfen (曾艳芬)
Foreign Students
Suzuki Mariya (鈴木まりや) (AKB48)
Miyazawa Sae (宮澤佐江) (AKB48)
Former Members
Hu MeiTing (胡美婷)
Yu TingEr (雨婷儿)
He YiChen (何轶琛)
Wang FeiSi (王费澌)
Chen Li (陈丽)
Ding ZiYan (丁紫妍)
Zhang XinFang (张馨方)
Zeng YuJia (曾誉嘉)
Discography
Singles
13/06/2013 : Heavy Rotation (无尽旋转, Wújìn Xuánzhuǎn)
02/08/2013 : Flying Get (飞翔入手, Fēixiáng Rùshǒu)
25/11/2013 : Koi Suru Fortune Cookie (爱的幸运曲奇, Ài De Xìngyùn Qū Qí)
Albums
Links
News