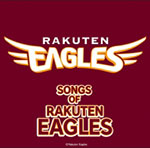 The compilation album Song of Rakuten Eagles (ソング・オブ・楽天イーグルス) will be released on October 16.
The album includes songs from various Hello! Project groups (Morning Musume, Def. Diva, GAM, °C-ute) and other artists.
These songs are dedicated to the support the Japanese baseball team Tohoku Rakuten Golden Eagles (東北楽天ゴールデンイーグルス).
It is a re-release of the CD published in 2009.
Tracklist
Habatake Rakuten Eagles (羽ばたけ楽天イーグルス) (Inuwashi Gasshoudan)
The Manpower!!! (Theマンパワー!!!) (Morning Musume)
Let's Rakuten Eagles (Let's Go 楽天イーグルス) (Def. Diva)
Daisuki Rakuten Eagles (ダイスキ楽天イーグルス) (GAM)
Koero! Rakuten Eagles (越えろ!楽天イーグルス) (°C-ute)
Kurenai no Tsubasa (紅の翼) (Horiuchi Nakao)
We Are Eagler!! (Cuzsick)
Ara Washi no Uta (荒鷲のうた) (ARB)
Rakuten Eagles Go! Go! Go! Go! (楽天イーグルスGo! Go! Go! Go!) (Okuyama Eiji DJ Wacky Kayama)
Ougon no Tsubasa (Haichi Itabashi)
Dream of Eagles ~Yume wo Kanaete (Dream of Eagles~夢をかなえて) (Satoru & Akki)
Yume no Tsubasa (夢のつばさ) (Sato Muneyuki)
Aoba-jou Koi Uta (青葉城恋唄21) (Cuzsick & Mess ⇒ Age Crew)
Dangerous Flight! (Tommy)
Habatake Rakuten Eagles (羽ばたけ楽天イーグルス) (Inuwashi Gasshoudan) (Stadium Edit)
Habatake Rakuten Eagles (羽ばたけ楽天イーグルス) (Inuwashi Gasshoudan) (Rakuten Samba Mix)