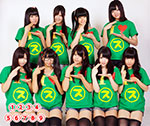 Soup Girls (スープ☆ガールズ) is a Japanese idol group formed in 2012. It currently consists of 9 members.
Soup Girls is part of Alice Project. It is a sub-unit of Steamgirls and Oz.
Sakura Rina, Sawada Risa, Araya Satsuki, Tsukimiya Karen, Kawamura Nanaka, Kamiya Erina, and Sakura Yuki are also members of Steamgirls (and Machikado Keiki Japan for the latter), whereas Yuuki Meru and Sato Nanase belong to Oz.
They perform regularly at P.A.R.M.S. Theater in Akihabara in Tokyo.
Profile
Soup Girls (スープ☆ガールズ)
Years active : 2012 – present
Label : –
Agency : Kleeblatt
Members
Yuuki Meru (結城める)
Sakura Rina (佐倉梨杏)
Sawada Risa (澤田リサ)
Sato Nanase (佐藤七彩)
Araya Satsuki (新矢皐月)
Tsukimiya Karen (月宮かれん)
Kawamura Nanaka (川村虹花)
Kamiya Erina (神谷えりな)
Sakura Yuki (桜雪)
Discography
Singles
Albums
Links
News