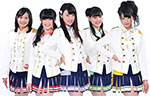 Spatio (スパティオ) is a Japanese idol group formed in 2011.
It currently consists of 5 members. Each one of them has been assigned a color.
The unit is based in Oita in the prefecture of the same name.
The name Spatio comes from the words "Spa" (温泉) and "Oita" (大分). It refers to the "onsen" (hot springs) of the city.
The members are also models.
History
The idol group was formed under the name Spatz in July 2011. The 3 original members were Abe Kayako, Kurista Ami and Goto Ami.
Matsunaga Mirano was added in September 2011, and Oita Steffi in October 2011.
They officially changed their name to Spatio in October 2011.
The idol group debuted and participated in its 1st live performance in December 2011.
Their 1st single Furusato (ふるさと) was released in March 2012.
Spatio held their 1st live performance The First Independent Live in July 2012 at Bitts Hall in Oita.
Former leader Kurisuta Ami announced her graduation in March 2013 to focus on her studies as she was going to enter university. She was half Australian.
2nd generation members Oie Aika and Kajiwara Yume debuted in April 2013.
Their 3rd single Surechigai School Days (すれ違いスクールデイズ ) was released nationwide in November 2013.
Abe Kayako graduated in December 2013. Hirose Ayaka joined the idol unit at the same period.
Ota Steffi left Spatio in April 2014. She was from Romania and she arrived in Japan when she was 8 years old.
Profile
Spatio (スパティオ)
Years active : 2011 – present
Label : –
Agency : Cinemascope21
Members
Goto Ami (後藤亜美)
Matsunaga Mirano (松永みらの)
Oie Aika (尾家愛佳)
Kajiwara Yume (梶原永遠)
Hirose Ayaka (廣瀬彩加)
Former Members
Kurisuta Ami (クリスタ亜美)
Abe Kayako (阿部華也子)
Ota Steffi (太田シュテフィ)
Discography
Singles
14/03/2012 : Furusato (ふるさと)
27/11/2012 : Happy Happy Run Run (ハピハピ♡ルンルン)
09/11/2013 : Surechigai School Days (すれ違いスクールデイズ )
Albums
Links
News