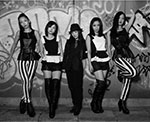 SRAM (スラム) is a Japanese idol group formed in November 2013. It currently consists of 5 members.
SRAM is a sub-unit of LinQ. They perform rock songs.
The name is an acronym combining the first letter of some famous Japanese rock bands :
S = Sonhouse (サンハウス), Sheena & The Rokkets (シーナ&ロケッツ)
R = The Roosters (ルースターズ), The Rockers (ロッカーズ)
A = ARB, Angie (アンジー)
M = Mods (モッズ), Modern Dollz (モダンドールズ)
The idol group is based in Fukuoka in Kyushu Prefecture.
SRAM released their debut single Lemon Tea (レモンティー) / Let's Rock (Dan Dan) in November 2013.
They held their first live performance on the same day during LinQ Chikappa Zenkoku Tour 2013 (LinQ ちかっぱ全国ツアー2013) at Fukuoka Convention Center.
Profile
SRAM (スラム)
Years active : 2013 – present
Label : –
Agency : –
Members
Discography
Singles
23/11/2013 : Lemon Tea (レモンティー) / Let's Rock (Dan Dan)
Albums
Links
News