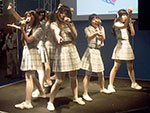 Stand-Up! Hearts participated in Japan Expo 2015 in Paris Nord Villepinte, France, in July 2015.
Check out the video and some photos of Stand-Up! Hearts live.
Only 6 members of the Japanese idol group were present : Arata Yuyu, Uchida Kotone, Ochi Karin, Suzukawa Mashilo, Yurano Yuno, Manami Kazune.
Suzukawa Mashilo won a contest organized by Cheerz mobile app for smartphones on May 2-3.
The prize for the idol who lead the artist ranking at the end of the event was to go to Japan Expo and to hold a live performance with the members of her group. Fans could vote to support their favorite girls. Suzukawa Mashilo (Stand-Up! Hearts) ranked 1st with 208142 points. Ari (Color Pointe) reached the 2nd place with 81132 points, and Ayase Reina (dela) the 3rd place with 12474 points.
This event was the first overseas live show of the idol group.
In addition, fans could take a picture with Stand-Up! Hearts at Cheerz booth.
Japan Expo is the biggest convention dedicated to Japanese culture in Europe. The festival took place on July 2-5, 2015.
Video
Photos