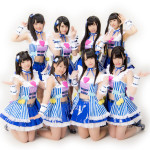 Iketeru Hearts (イケてるハーツ) is a Japanese idol group formed in September 2014.
They were formerly known as Stand-Up! Hearts.
They currently consist of 8 members. Each one has been assigned a color.
It is a sister unit of Afilia Saga.
The leader is Arata Yuyu.
Biography / History
The girls were originally Stand-Up! Project kenkyuusei (trainees).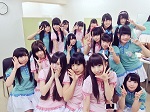 The idol group performs J-Pop, anime and video game songs.
They participate in various lives and events. They try to deliver love and courage through their performances.
The goal of the members was to be selected in order to make CD debut.
The idol group held its 1st live in September 2014 at Shibuya Club Quattro, Tokyo.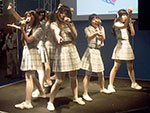 Suzukawa Mashilo won a contest organized by Cheerz mobile app for smartphones on May 2-3, 2015. As a result of this success, Stand-Up! Hearts participated in Japan Expo 2015 in Paris Nord Villepinte, France, in July 2015. Check out our photos and videos of the event.
Naruse Momoko was promoted to Afilia Saga in July 2015. After this transfer, she changed her artist name to Momoko Little Berry
In september 2015, the members were promoted from kenkyuusei to idol status.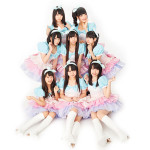 The idol group performed at Anime Festival Asia 2015 in Singapore (AFASG 2015) in November.
Stand-Up! Hearts changed their name to Iketeru Hearts in December 2015. A the same time, the members status officially changed from kenkyuusei (trainee) to idol.
Iketeru Hearts' major debut single Let's Stand Up! was released in February 2016.. Tsunku♂ wrote the lyrics and composed the music of the title song.
The girls try to learn how to fly in the MV for their 2nd single Sekai e Habatake (世界へはばたけ!) on sale in June 2016. The song was written and composed by Momoi Haruko. The costumes have angel wings. They were designed in collaboration with Yukafin Doll (Afilia Saga).
Iketeru Hearts are going to participate in IDOLidge Carnival in Taipei, in Taiwan, in July 2016.
Profile
Iketeru Hearts (イケてるハーツ) / Stand-Up! Hearts
Years active : 2014 – present
Label : Stand-Up! Records
Agency : Stand-Up! Project
Members
Arata Yuyu (新ユウユ) – Blue
Usami Madoka (宇咲美まどか) – Pink
Uchida Kotone (内田琴音) – Purple
Ochi Karin (越智かりん) – Yellow
Tachibana Rie (橘莉衣) – Orange
Nijika (虹香) – Red
Manami Kazune (舞波和音) – White
Yurano Yuno (由良乃ゆの) – Light Blue
Former Members
Tamami Ruka (天海るか)
Kuraki Aoi (倉木碧)
Takami Yuiri (高峰ゆいり)
Yakura Megumi (矢倉めぐみ)
Arizawa Momo (有澤萌々)
Naruse Momoko (稀亜羅)
Ichinose Tomone (一ノ瀬朝音)
Moriyama Sumire (守山菫)
Suzukawa Mashilo (涼川ましろ)
Amane (天音)
Discography
Singles
10/02/2016 : Let's Stand Up!
29/06/2016 : Sekai e Habatake! (世界へはばたけ!)
Albums
Links
News