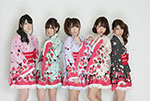 Matsuzaki Hiroka, Nakane Motoko and Watanabe Kaede joined Starmarie.
The 3 new members were introduced to the fans on June 22 during Jump Pop Fes' 14 ~Starmarie presents Fantasy World Next~ live performance held at Tokyo Kinema Club.
Moreover, the idol group and the new members opened their official Twitter accounts :
Furthermore, Starmarie will hold live performances during 3 consecutive days at Tsutaya O-East on July 9-11.