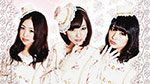 Starmarie is going to participate in Anime Expo AX 2013.
Starmarie will come as industry guests. More details will be provided later.
Anime Expo AX 2013 will be held on July 4-7 at the Los Angeles Convention Center. It the biggest annual festival about japanese anime, manga, music, and popular culture in the United States.
Schedule
Date : 04/07/2013 – 07/07/2013
Time : –
Venue : Los Angeles Convention Center (USA)