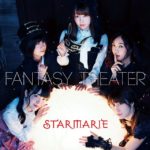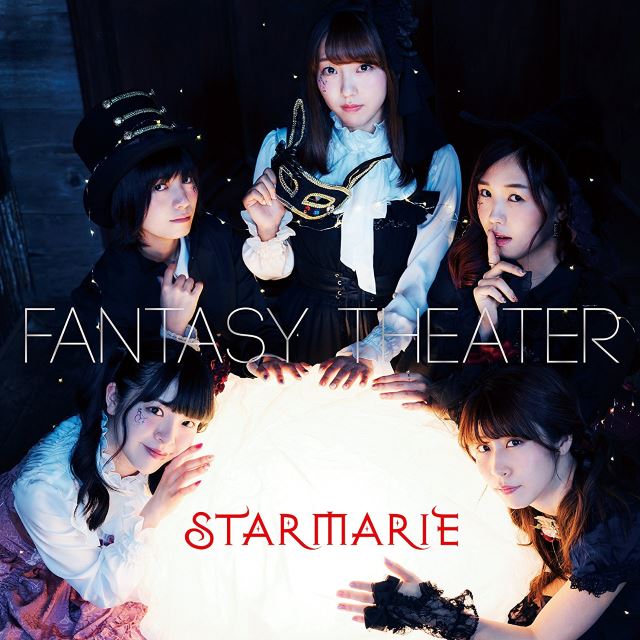 The new album of Starmarie entitled Fantasy Theater will released on April 4.
This is the 4th full album of Starmarie, and the first of the idol group for 3 years.
The album is available in one edition ony and contains in total 20 songs.
It features the latest singles like Circus wo Koroshita no wa Dareda and Hime wa Rankiryuu Goikkou-sama (eventually the song Spell of the Book) as well as the old songs, here re-recorded by the current line-up of Starmarie.
A promotional video ; you can watch it below.
Tracklist
Hoshi no Tereka (ホシノテレカ)
Okujō kara Mieru Ginga-kun mo Mita Keshiki (屋上から見える銀河 君も見た景色)
Good Morning!! Hamamura Show (グッモーニンッ!! ハマムラSHOW)
Mitsuboshi Restaurant Paul kara no Joutaijou  (三ツ星レストラン・ポールからの招待状)
Circus wo Koroshita no wa Dareda (サーカスを殺したのは誰だ)
Kuruoshiki Gekka no Budoukai (狂おしき月下の舞踏会)
Spell of the Book (スペル・オブ・ザ・ブック)
Kenja no Robe (賢者のローブ)
Kake Ochi Shiyou yo (かけおちしようよ)
Namida no Paso Koujou « Consel Kamata »" (涙のパン工場「コンセル・カマタ」)
Heavens Wedding (ヘブンズ・ウェディング)
Guranpa Guranpa (ぐらんぱぐらんぱ)
Yomei 124-nichi no Cinderella (余命124日のシンデレラ)
Sayonara wo Bentou (さよならお弁当)
Mama wa tensai Guitarist (ママは天才ギタリスト)
Kireina Reona no Shouzou-ga (綺麗なレオナの肖像画)
FANTASTIC !!
Hime wa Rankiryuu Goikkou-sama (姫は乱気流☆御一行様)
Tengoku kara no Melody ~instrumental of Hoshinoteleca~ (天国からのメロディ〜instrumental of Hoshinoteleca〜)
Meimo Naki Hoshi no My Home (名もなき星のマイホーム)
Promotional Video