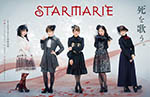 "Singers of death" Starmarie have released Spell Of The Book, another trademark "dark fantasy" themed track, for free listening.
Their "hard" sound appeals to the aural senses, but Starmarie shines with their lyrics.
The lyrics are structured like a so-called "book", beginning with a synopsis, running through the first through final chapters, and concluding with an epilogue.
Starmarie member Takamori Shino said, "The more you 'read' Starmarie's songs, the more you get drawn into the mystery, and the lyrics are relatable."
What happens to the man who turns the pages of the "book that should not be opened" containing his future? He repents his past, and tries to find hope for what is to come. What is written in the pages ahead?
The lyrics of Spell Of The Book were written by yusuke.t. The music was composed and arranged by hanawaya (CWF).
Fantasy idol unit Starmarie performed their solo show, Fantasy Circus ~Chapter 3: Spell Of The Book~ on August 21 at Shinagawa Stellar Ball. Based around theme of a mystical "book that should never be opened", the group performed their set of 22 cerebral and fantastical songs. The group performed together with the band for the first 10 songs, after which Takamori Shino performed Disappearing Magical Power and I will go and kill you on the night of the star festival on the piano.
After the final curtain call, it was announced that Starmarie would be performing Starmarie 2016 Live The Fantasy Show ~Hime wa rankiryu☆goikkosama~ at Nakano Sun Plaza on December 26.
In addition, the members of the idol group will become regulars on a HiBiKi Radio Station program.
Here are the lyrics of Spell Of The Book translated into English:
【Synopsis】
A man burdened by misery
Opens a book containing his life story
First glancing at the pages of his past
Then gingerly turns to the pages containing his future
【In the beginning】
If the book made its way into your hands
Would you open it? Not want to look at it? Rewrite it? Erase it from your memory?
【Chapter 1: Wandering into the town of regrets】
Every time there is betrayal, hatred brews
Spell Of The Book
Don't seek knowledge, even if it is the truth
The future and the past are all nonfiction
We pretend to be ignorant
That is why we are always blissful
【Chapter 2: The library where haunted books slumber】
Passing through an old corridor
Surely it was there
Make a card, describing part of the soul
A short nap until the ancient brings it
【Chapter 3: And yet, the book must be opened】
Inexplicably, failures and successes are chain reactions
【Chapter 4: I have met the culprit in the past】
From birth to yesterday's last meal
The meaning of that day's lies
Spell Of The Book
Don't seek knowledge, even if it is the truth
You and I are like characters in a series
I don't know…
I want to know…
【Final Chapter: The reality of mother's kindness (or, the reason she departed)】
Realizing with horror that the book concludes with today's date
"I told you not to open it! You never listen!"
【Epilogue】
If you could "see the future"
Even if this means the other realm
Spell Of The Book
Don't seek knowledge, even if it is the truth
Even if the eBook is unleashed someday
We pretend to be ignorant
That is why we are always blissful