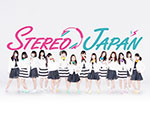 Stereo Japan's 1st single Electron will be released on May 20.
This single marks the debut of Stereo Japan, an idol group consisting of 14 members performing EDM (electro dance music) songs.
The MV has been unveiled.
The members belong to Stereo Tokyo and Stereo Osaka teams.
The music video shows the girls at famous places in these two Japanese cities.
There are 3 CD editions, including local ones.
Moreover, the idol group is going to hold release parties on May 23-24.
Tracklist
Japan ver.

Electron
Electron (Instrumental)
Tokyo ver.

Electron
Endless Dokidoki Mode (Tokyo Mix)
Electron (Instrumental)
Endless Dokidoki Mode (Instrumental)
Osaka ver.

Electron
Endless Dokidoki Mode (Osaka Mix)
Electron (Instrumental)
Endless Dokidoki Mode (Instrumental)
Music Video (PV)